Chapter 6 - Turtle Deck
Turtle Deck Bulkheads
Rear Bulkhead. Use sheets of paper to create a template for the rear bulkhead. This will be positioned just above the rear bulkhead in the rear fuselage and should be located about two inches forward of the rear edge of the turtle deck. It should be about two inches wide and fabricated out of ¼" last-a-foam with a single layer of BID on each side. Notice there is a clearance notch cut into the top to clear the elevator control cable. Once you are happy with the shape of your template, transfer the pattern to the laminated foam and cut out the bulkhead. Use a radious of micro on each side to bond it to the turtle deck, then use a single layer of BID to permanently secure it in position. This layer of BID should extend about and inch and a half onto the bulkhead and the turtle deck underside. Finally, remove the foam core around the edge of the bulkhead and fill with micropaste.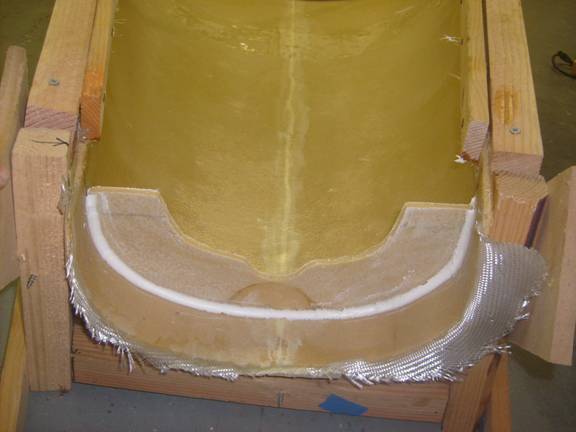 Rear Bulkhead Microed into position
There is a second bulkhead positioned at the center bulkhead. It is three inches in width and tips forward at a 30 degree angle. This is to give the rear fuselage section additional tortional rigidity.
Again, create a paper pattern of the desired shape and transfer to ¼" last-a-fom. Laminate a single layer of BID to both sides, micro in place and then use a single layer of BID to secure in place. Finish it as you did the rear bulkhead.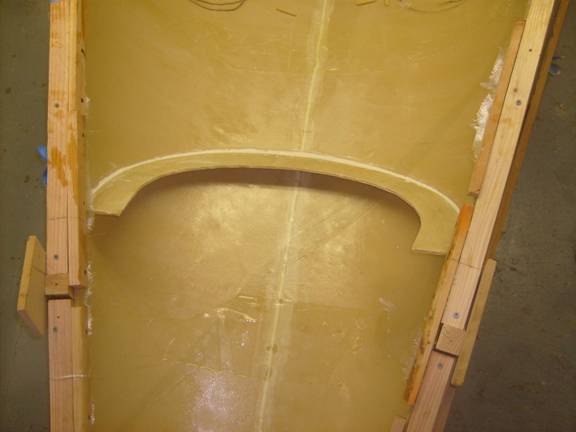 Center bulkhead viewed from the rear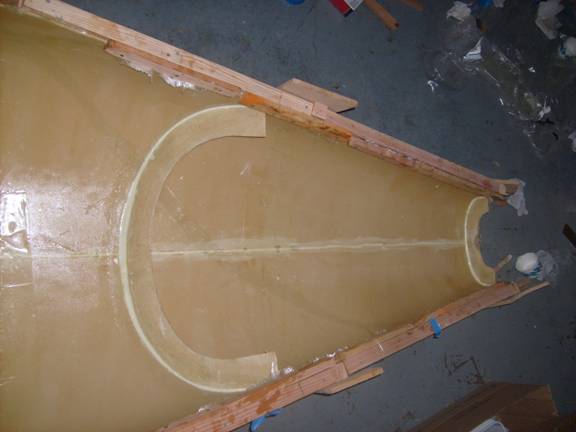 Both Bulkheads in Position